Executive Committee
The CCR is governed by an Executive Committee of a maximum of thirteen members, including a President, who are elected by the membership at the Annual General Meeting (in November/December). Members serve terms of two years. They meet four times a year. A call for nominations for candidates for the Executive Committee is announced to members each summer. Candidates are sought who have been active within the CCR and who represent its diverse membership.
Working Groups
The three Working Groups are the forums in which CCR members exchange information, network and develop policy positions in particular areas of concern. They are responsible for preparing resolutions and planning workshops at the consultations, as well as for advising the Executive on policy.
The Working Groups meet four times a year: in Summer (August/September) in Montreal, and Winter (February/March) in Toronto, and in Fall and Spring at the Consultations. Each Working Group has two elected Co-chairs who serve two year terms. The Co-chairs are elected at the Working Group meeting at the Fall Consultation, with a call for nominations sent to the CCRlist beforehand. Criteria to run for Co-Chair are that candidates must represent a CCR member organization and have attended at least one previous Working Group meeting.
All CCR members are encouraged to attend the meetings of the Working Groups,which are also open to other non-governmental people interested. The meetings are closed to media and government. CCR members receive mailings of their selected Working Group, which include minutes of meetings, information updates and copies of relevant documents. Members can also consult the minutes on the relevant working group page (you must be logged in).
Working Group on Immigration and Settlement
looks at all issues relating to refugee and immigrant settlement in Canada (e.g. language training, access to employment, counselling).
is served by a core group made up of representatives of provincial, regional and national organizations.
organizes several workshops for each CCR Consultation.
For more information, visit the Immigration and Settlement working group page
Working Group on Inland Protection
is concerned for the protection of refugee claimants in Canada or seeking to come to Canada.
organizes workshops for each CCR Consultation.
For more information, visit the Inland Protection working group page
Working Group on Overseas Protection and Resettlement
looks at issues relating to the selection of refugees overseas (refugees sponsored by either the government or private groups) and the programs for them here in Canada. Also interested in protection issues for refugees around the world
organizes workshops for each CCR Consultation.
For more information, visit the Overseas Protection and Resettlement working group page
Legal Affairs Committee
The CCR Legal Affairs Committee oversees the CCR's involvement in cases before the courts. It seeks opportunities to encourage development in the law towards better protection of the human rights of refugees, immigrants and other non-citizens.
For more information, visit the Legal Affairs Committee page.
Youth Network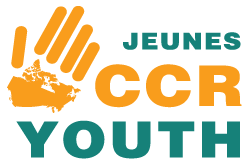 The CCR Youth Network gives youth and youth allies a voice to address challenges faced by newcomer youth and a space to share ideas on how to meet these challenges.
For more information, visit the Youth Network page.