The Francisco Rico-Martinez Access to Justice Award is created to honour and continue Francisco's leadership over three decades within the CCR. The award will be given on an annual basis to an individual, group of individuals or organization to support them in pursuing a project aligned with Francisco's core commitments.
The award, in an amount of up to
$10,000 each year
, will be given to projects designed to advance access to justice in an area within the mandate of the CCR in one or both of two fields: 
Capacity building
and
 Advocacy. 
 Interested in applying?
Click here.
Our goal is to raise $50,000 for a period of 5 years (including $5,000 of contribution from the CCR). As of August 2022, we have raised $18,550. Thank you so much for your support, and to the following organizations for their generous contributions:
OCASI | Ontario Council of Agencies Serving Immigrants
Sojourn House
Romero House
Image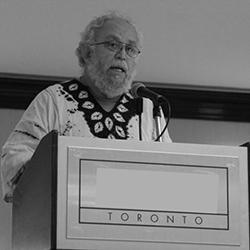 About Francisco Rico-Martinez
Francisco Rico-Martinez worked all his life for justice and for more than three decades for the uprooted. He was President of the Canadian Council for Refugees from 1997 to 2001, as well as filling numerous other positions in the organization through the years – and never stopped being a leader, a teacher, an inspiration, a model, and a companion along the way, within the CCR and throughout the refugee and immigration advocacy communities.
With his wife, Loly Rico, he founded and co-directed FCJ Refugee Centre, an organization that offers hope and solutions to people who face closed doors everywhere else.
Contribute to the Francisco Rico-Martinez Access to Justice Funds
You can make a donation by cheque or bank transfer. Please fill out this form and send it to: 
Canadian Council for Refugees
6839 Drolet #301
Montréal, Québec, H2S 2T1

You can also make a donation online by credit card: