The Inland Protection Working Group provides a forum to exchange information, network and develop policy positions in the area of the protection of refugee claimants in Canada at all stages of the refugee process, including:
access to asylum in Canada
in-Canada refugee determination
post-claim recourses
family reunification
detention
removals
the regularization of persons with precarious status in Canada.
Read more about the activities of each Working Group.
For the current year (2023), the Working Group priorities are:
Regularization
Access to asylum, including access to shelter and support on arrival
Family reunification
And refugee claimant processing as an internal priority.
Resolutions
Consult the resolutions related to Inland Protection in the Resolutions Database.
Image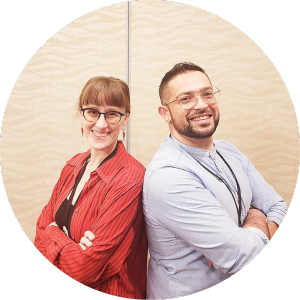 Working Group Co-chairs: Francesca (L) and Basel (R).
Basel Abou Hamrah
Basel is a Settlement Practitioner specializing in LGBTQ+ complex cases at the Edmonton Mennonite Centre for Newcomers (EMCN). His journey to Canada began in 2015 when he arrived as a refugee from Syria. He led the creation of the Rainbow Refuge Program, the first program of its kind in Edmonton to support LGBTQ+ newcomers community members with immigration and settlement. He is also a co-leader of the LGBTQ+ Newcomer Edmonton Group. Basel's combination of personal and professional experience provides him with unique insight that has contributed to shaping the creation of very specialized LGBTQ+ newcomers services in Edmonton. As the recipient of the Queen Elizabeth II Platinum Jubilee Medal and the Stonewall 2021 Newcomers and Refugees Award, he is a strong advocate for the needs of the LGBTQ+ newcomer community. Helping others be their authentic selves able to thrive in their new home.
Francesca Allodi-Ross
Francesca Allodi-Ross serves as Executive Director at Romero House, a community of welcome for refugee claimants in Toronto. Until 2022, Francesca was a lawyer, spending 10 years in community legal clinics providing free legal services to low-income Ontarians. Her primary focus was employment law. She has a Bachelor of Arts (Hons.) from McGill University and a law degree (J.D.) from Osgoode Hall Law School. Francesca is a co-facilitator of the Yes! Toronto Jam, an annual retreat for social justice changemakers. Francesca loves dancing and singing and is grateful to live and work in a community that celebrates both.